Get GPS coordinates of your project
How to use Google Maps to obtain GPS coordinates of your project. If you choose not to do this, then Return to the Contact page now.
Open Google map of Costa Rica with Popup window

---
Pressing the link Popup window will show a Google Map of Costa Rica in a separate browser pop-up window. By following these instructions, you will be able to extract GPS coordinates of your property so that we can use it as reference to plan for shooting aerial photographs or video of your project.
1.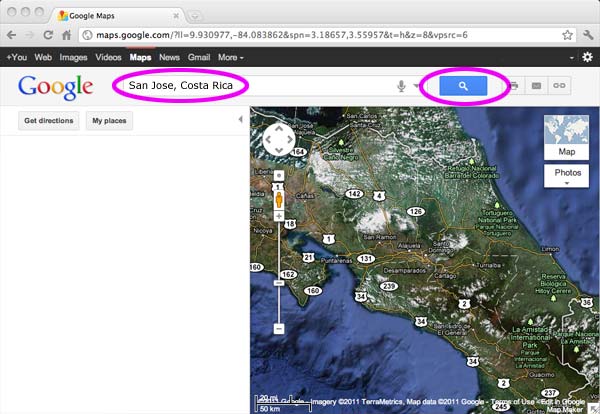 The above photograph is a screen shot of the Google Maps pop-up window. To locate your property you can type in the search box beside the Google logo the name of a city or town close to your property. In this example we will use San Jose, Costa Rica as the city and Country. Then press the blue Google search button.
---
2.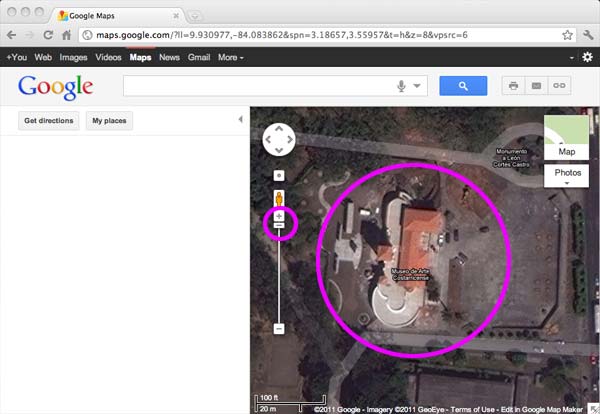 Locate your property by zooming in closer using the zoom tool at the left under the human figure. You can pan left and right and up and down by pressing the mouse button over the map and moving the image around. When you locate your property, zoom in as close as possible to the subject and center it within the map image area.
---
3.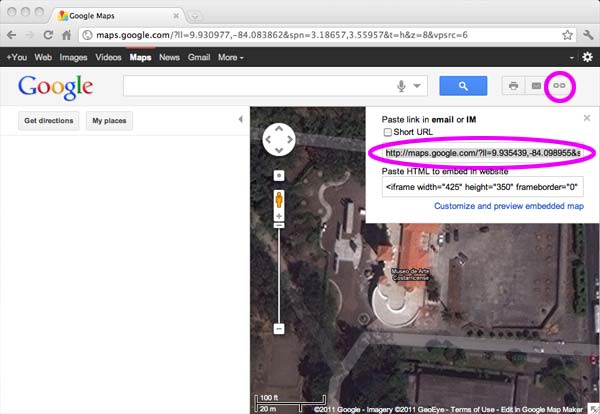 Locate and click on the chain link icon in the upper right corner of the screen. A URL will show in the upper text box with the text starting with http://. This internet direction contains the GPS coordinates.
---
4.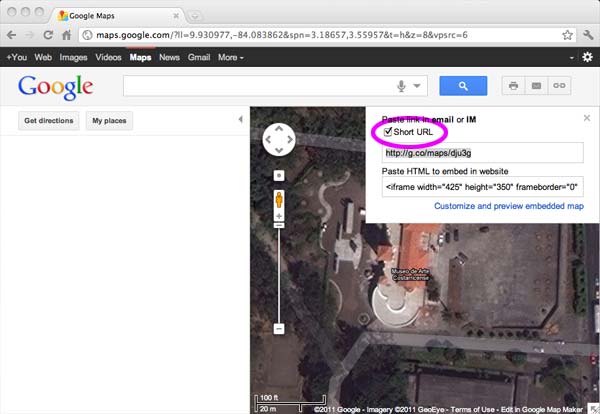 You can shorten the URL by clicking on the checkbox Short URL. Copy this short URL to your pasteboard.
---
5.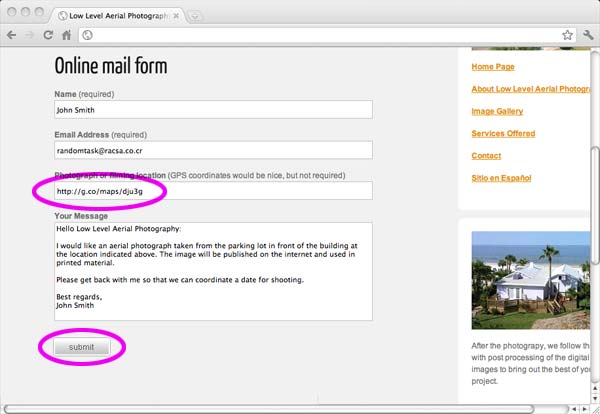 Paste the text you copied in the pasteboard into the Photograph or filming location text box on the Contact form and include your name, email address and your message in the corresponding text boxes. To finish, press the Submit button on the form to send us your message.
Thank you for your interest, we will be contacting you shortly.
Return to the Contact page page.