About low level aerial photography
If you decide that your business is in need for aerial photography, then the first question should be: high altitude or low level. If your in need of aerial photographs of a mega-residental development, golf course or 40 story high rise office building, than you should consider high altitude manned aircraft such a light plane or helicopter as your option. If you are looking for aerial photographs of a shopping center, home or vacation rentals, then you may want to investigate remote control aerial photography as a viable option. The old adage... "Get the right tool for the job," applies here.
Street level rendering of a modern home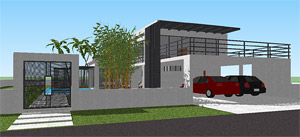 Shown here is a computer generated model of a house viewed at eye level as if a photograph was taken from the street. This view tells us that the house has a two vehicle car port, a second floor, a balcony and not much more. This angle is usually what is shown in real estate or rental advertisements.
If you are selling or renting the property, you want a photograph that shows as much of the home and surrounding neighborhood as possible. This cannot be achieved with an eye level street view. Enter... Remote Control Low Level Photography!
Low level aerial photograph of the same home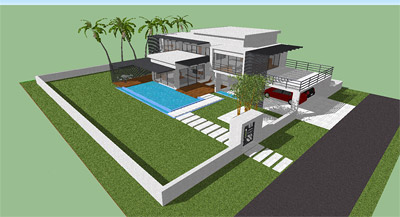 Now that's much better!... This is a view of the same house taken from the street at about the same height as a third floor window. We can now see that the house has more to offer such as a pool, deck area, screened porch and a large walled in yard. The house looks much larger because it is deeper than it is wide.
People tend to scan pictures first and if they are interested, read the text for details. The low level aerial photograph should show the potential client as much visual information possible and stimulate their interest.
Traditional high level aerial photography of the same home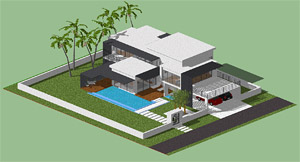 Here is the same house viewed at the minimum legal altitude for manned aircraft over urban areas. To achieve a decent resolution and to get close to the subject, the photographer must use a telescopic or long lens. The result gives a somewhat compressed or flat look to the photograph. The second photograph seems natural because the camera is closer to the subject.
Traditional aerial photographers also must deal with lens filters. If the photographer does not use an ultraviolet filter, the image may have a blue cast caused by atmospheric haze. If you have ever taken a photograph of the earth out of the window of a commercial flight, you know what I am talking about. Atmospheric haze is also a problem in Costa Rica during March and April. The haze causes the photograph to lack contrast. Most of these problems can be cleaned up with post processing, but it is always better if post processing corrections are not needed.
Lens filters are not required and atmospheric haze is not a problem when the camera is close to the subject because the volume of air you are shooting through is much smaller.
Our work... our passion!
We take each project with passion, with energy and flying high to provide our customers with the best service and experience on creative imaging in Costa Rica. In the following picture you can see our founder, pilot and cameraman Mr. O'Reilly working in putting together one of our camera gimbals, that later on was attached to our multicopter AS-1 and has flown in dozens of different projects providing amazing images and footage.